Aquarq
Aquarq
Resource Details
Type
Primary Objective
Hardness
0 (Not mined directly)
Rarity
Objective exclusive
Value
25 per unit
Aquarq is the primary objective in a Point Extraction, as well as "Collect Aquarqs" objective on Deep Dives. Either 7 or 10 must be collected and deposited in the Mine Head.
Aquarqs are heavy objects and must be picked up and carried by hand, or via Bosco. When carrying it a dwarf cannot do anything but throw flares / throwables, ride ziplines, and move with a 25% speed penalty (Sprinting is also disabled). It can be dropped by switching weapons or using the Laser Pointer, it can also be thrown far away by holding the [FIRE] key ("Left Mouse Click" by default) before releasing it.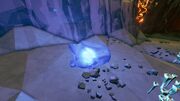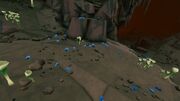 Aquarq is a large glowing blue crystal.
The area that the crystal is buried in is dotted by small sky-blue crystals and a dim blue glow, similar to other resources hidden within the walls. Small crystals only shine when there is Aquarq nearby.
Aquarqs can be found in any biome whenever they are part of an objective.
Resources
Mission Objectives

Crafting

Crafting Minerals
Beer Hops

Bonus Resources
Consumable Resources
Miscellaneous